A Surprising Christmas Friendship: A Printable Personalized Children's Christmas Tale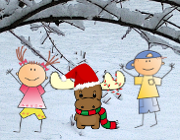 We've written an original Christmas story, featuring our mascot, Melvin Moose, and made it possible for you to personalize the story with your own child's first name, making your child the main character of the story.
Your child will will love hearing his or her name sprinkled throughout the story as he or she gets (and gives) the best Christmas gift of all - friendship. Here's a sample excerpt from the story:
At the very same time as Emily saw the bush, the bush saw Emily! Or rather, it was not the bush itself, of course, but the eyes peeking through the bush. Startled, it began to run in the other direction, and at that moment, Emily realized it wasn't a reindeer after all. It did have antlers, yes it did! But those antlers sat atop a little moose's head! ... The little moose scampered backwards a few feet, and Emily thought he was going to run away, but the little moose stopped and just looked at her. Emily stood there, waiting to see what would happen next. The moose did the same. They stood and looked at each other for quite a long time. Eventually, Emily was tired of standing so she decided to sit down on a stump jutting out from the top of the snow. Seeing Emily sit, the little moose did the same, only he plopped down right into a pile of snow and was promptly covered in snow! Emily laughed and laughed at the little moose as he shook the snow off! The little moose grunted softly, and sat down right next to Emily. The two sat there in silence until darkness began to fall.
The best news is that we've created this story so that you can print it out, immediately, for free. Just enter a few basic details about your child in the form below (first name, state or region where you live, and gender), and a printable story will instantly be ready for you to download and print. You can read your child's personalized story at bedtime tonight!
---
---
If you like our free personalized printable story, we'd really appreciate it if you let others know about us too by Tweeting it or sharing on any of the services below. Thanks!
Please note: To protect your privacy, and especially that of your child, we do not store your child's name or any information about your child. The information you enter into the form is used only temporarily to create the personalized story. Once the story is created, and you've downloaded it, all information about your child disappears from our server, so no one else can ever see it - not even us.